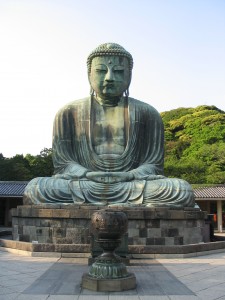 Just like there are many different interpretations of scriptures in the various religious traditions around the world, there is much debate and disagreement within Buddhist Sects about this and that as well.   I was drawn to Zen because it seemed less cluttered with stuff to weed out than other paths.  Not requiring a belief in some supreme being or duality, Zen seemed the most direct path to having a truly intimate experience of reality.
Well, there is always stuff (nasty smelly ego stuff) to weed out.  Why is this so?  You might as well ask what is the cause of suffering in the world because the answer is the same. Same old, same old, being right, misguided attachments to this and that, identification with what you think is real, delusions – all leading to isolation,conflict, and suffering.  (Don't despair, it does not have to be that way.)
In this culture,  American Buddhists have adopted and adhered to cultural traditions from India, China, Korea, Japan, etc .   America is after all the melting pot, so we are faced with what works and what is just window dressing.  Right time, Right place, Right action, creates Right effect.  In my view, that is likely different today than it was yesterday.   How do we respect the traditions that have brought to us great wisdom and still be living in the present time and culture?  I don't have the answer to what is american Zen, however, I am part of the experiment.  Maybe, the  keep it simple stupid  rule applies.  That is my goal, to keep it simple. That is also why I call my practice "secular".  I do not want the distractions of belief systems and all that it implies.
My experience over the years confirms one thing – just sit, practice zazen.  Still the mind, see beyond the relative to what is.  Besides all the physiological and health benefits of meditation, eventually the nasty stuff is no longer nasty, no right, no wrong, just original nature.  This empowers you with true intimacy in every area of life. You no longer feel separate, but are part of the interdependent network of all life!  Then you can act with total freedom, not limited by beliefs. It is neither this or that…
Bow